David and I have been cooking for crowds since we met.  There's never a time he does burgers that people don't ask how he makes them.  I'm sorry to say this recipe is far from exact because we will just "eyeball" all of our ingredients and of course adjust them to the number of people we are feeding.  Here are our ingredients, measured the ole' southern way… "a dash of this, and a dash of that."  My favorite way to have these is on the stove-top, but I've included directions for grilling as well – as we do that often during the warmer months.  However, you cannot compare to the juiciness of a skillet burger! The photo below is from The Food Charlatan blog, where you can find her Smashburger recipe HERE.  Until I can replace my recipe with an actual photo, this looks super close to what we end up with!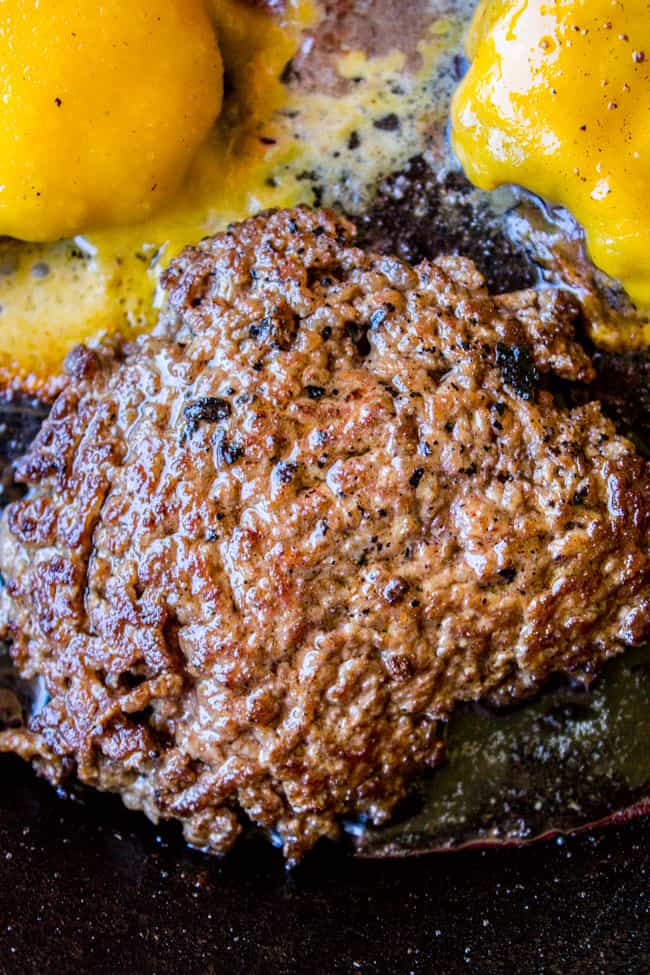 1 pound of ground beef (your choice on the type and fat content)
Minced Onions
Garlic Powder
Salt & Pepper
Allegro Marinade (Secret Ingredient!)
1 Egg (optional)
Breadcrumbs (optional)
Dice 1/2 onion, we prefer sweet onions. Place about a tablespoon of oil in a warm skillet, and add your onions, sauteing for 1-2 minutes.  Add burger patties over the onions, and cook for 5 (or so) minutes per side, pressing down on the patty while its cooking.  Once you flip to the final side, place a slice of cheese on top, and close the lid to steam.  OR place on a warm grill for 6-8 minutes per side, depending on thickness.